Fall classes begin September 7, 2021.
The health and safety of our members and staff is our #1 priority, especially in these unprecedented times. Our policies and safeguards are listed on this website.
This is an addition to existing safety measures. Only entering the gym when necessary. Currently masks on children are optional but that may change.
We appreciate your assistance in strictly limiting the number of people in our facility. This is accomplished by only one person escorting their child into the building and helping them, if necessary, to prepare for class, then immediately exiting. If you must stay consider the number of parents in the space with you.
If it becomes difficult to social distance while you wait please exit the building and return to collect your child at the end of class. Depending on the class you enrolle din, classes are 45, 55 and 85 minutes. Please enter and exit in a timely fashion to reduce the number of guests in the space. If necessary, going forward, we may reduce the length of the class to better accommodate cleaning and traffic flow to reduce the spread of COVID. Please respect this and be on time especially with regards to pick up. We are trying very hard to maintain a safe environment and follow the guidelines. While indoors, a mask is currently optional , please sanitize and social distance.
Thank you for your attendance and cooperation. The Aerials Staff.
Families, we are ready to receive your children back after a great summer of camp and class. Following are links to .pdf files that you can download, print and read. We are embarking on some new policies and procedures to keep your children and our staff safe during this unprecedented time. Thank you for your patience as we re-invented our methods and prepared for your safe return.
Press the buttons below for more info during COVID 2021.
ALL customers returning for the first time since last Winter, please click here to download the "AERIALS COVID Guide to Return to CLASS"
NEW CUSTOMERS: Please click, download and complete the registration form.
**Please consider: We are working hard to keep things in the gym as "normal" as COVID possible for the children.
All customers need to sign the new COVID-19 waiver. Follow the directions below.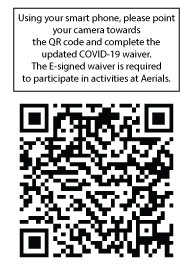 **Currently, the State of PA has set forth, by the Governor, his "Plan for a Phased Reopening". This guideline drastically limits our maximum capacity. If we invite parents to stay during class then we have to limit the number of children and the staff who teach them. This is awkward since we have a beautiful lobby from which to view your child learning their skills, and we love to see the parents watching their kids. However, due to the current circumstances, we have chosen to use our drastically restricted capacity to host children and coaches to the maximum. First time parents, who have never been in the facility, can be given a brief tour through the lobby following CDC and state guidelines (temperature check, hand sanitizing, etc.). Entering through the back of the building. We are temporary operating like a pre-school or elementary school where parents drop their children off. Of course, our class is much shorter in length than pre-school, kindergarten or elementary school, so the time flies. We do not know how long this painful encumbrance will last. Until then we are happy to do our part to mitigate risk to our children, staff and families. Mr. Rick and the Aerials Staff.